A new staircase at Amsterdam Central Station connects train and metro travel
July 07, 2020
A new way to tranfser
In the middle of the monumental Cuypers hall, an ample staircase with escalators now leads the way to the underground metro halls, making it possible to change from train to metro without having to go outside. This ensures a fast and comfortable transfer and also divides the passenger flows at the busy station.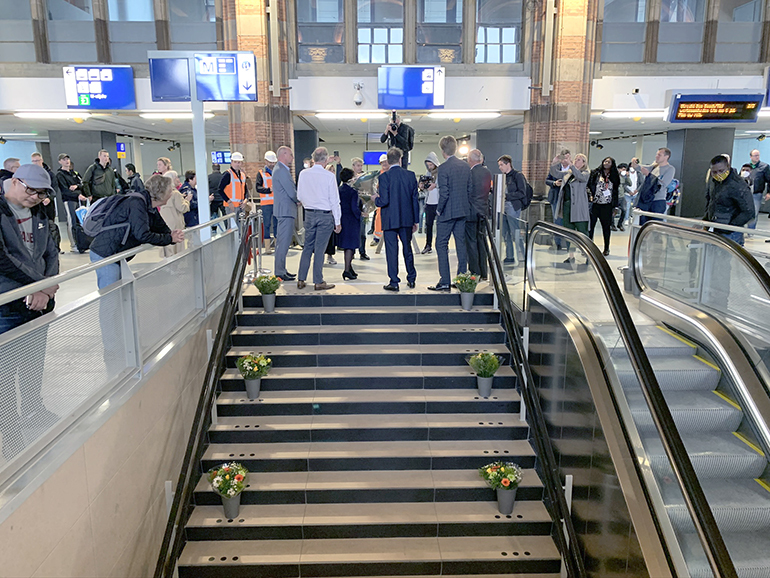 History meets future
The Cuypers staircase was part of the Benthem Crouwel Architects masterplan from the very beginning: the artwork in the metro hall was designed in such a way that it could accommodate the passage. Now, the staircase is beautifully integrated, combining the materials used for the North/South metro line ceilings and floors with the natural stone used in the Cuypers hall. The staircase emerges in the hall at the exact spot where in the 1950's an underground route was created for pedestrians, where they could avoid the heavy traffic in front of the station.
A Masterplan to restructure public transport
Benthem Crouwel Architects has been working on the future of Amsterdam Central Station since 1996. Our masterplan has completely restructured the organization of public transport. Moving all bus stops from the chaotic, cluttered forecourt to the back of the station created an open and clear space in front of the station. By lifting the new bus station on IJ-side up to train level, the ground floor became the exclusive domain of pedestrians and cyclists, while an underground tunnel efficiently leads car traffic underneath the station. A new slow traffic tunnel gives cyclists and pedestrians a fast connection between city, IJ river and Amsterdam Noord.
Uncomplicated travel
All transport hubs designed by Benthem Crouwel Architects ensure free passenger flows and clearly marked access to all public transport modalities. At Amsterdam Central Station we have created a dynamic transport hub that effortlessly combines history with the most modern, easy ways to travel. The Cuypers staircase is the one of latest additions to this highly functional, integrated hub, and makes the traveler's experience even more uncomplicated and comfortable!