Exhibition design Brno Station on tour
September 21, 2023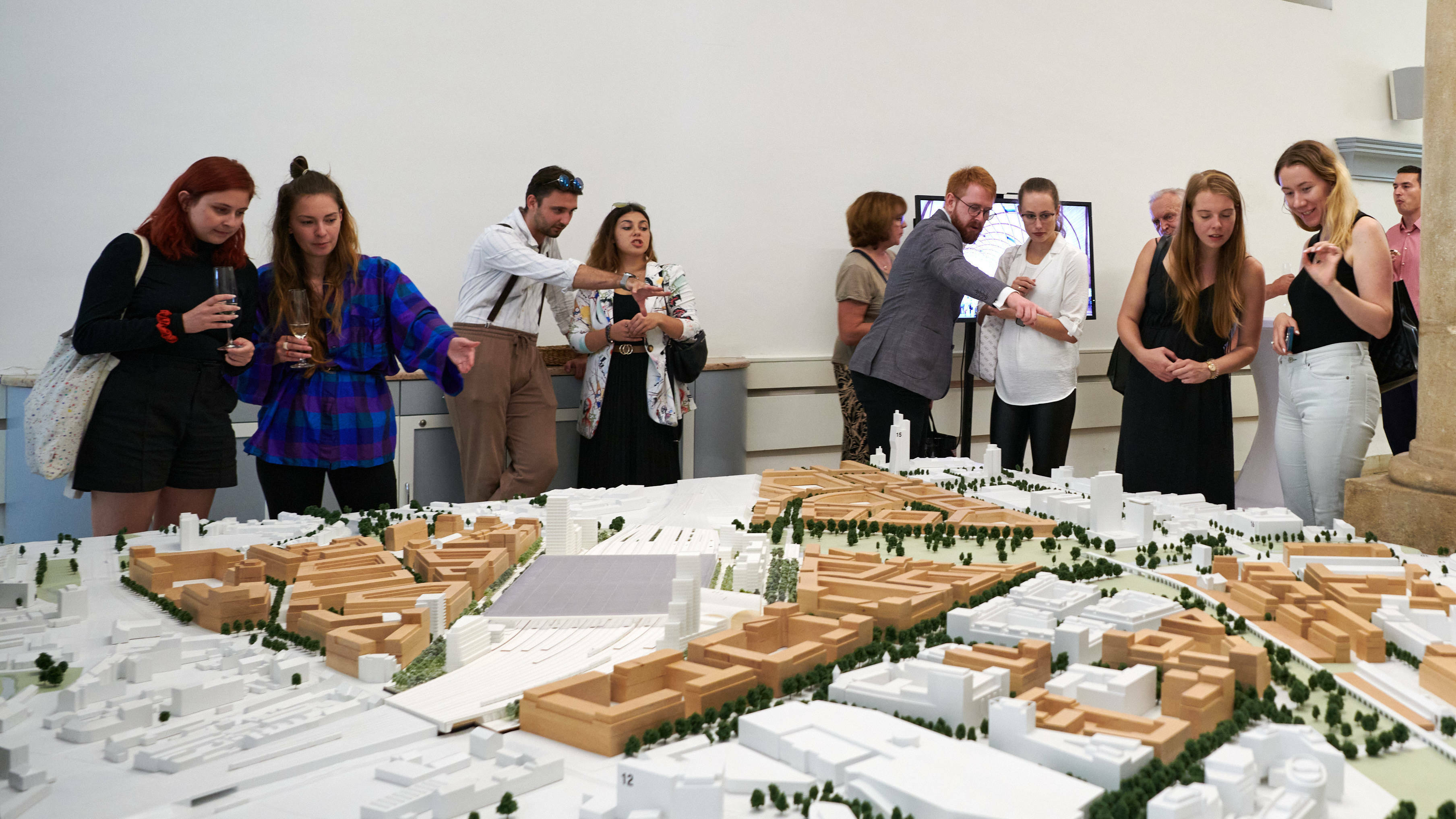 Benthem Crouwel Architects and West 8's design for the new main train station in Brno, Czech Republic, is now on display at Brno's Town Hall.
In 2021, an international architectural-urban-transport competition was announced for the new main train station, commissioned by the city of Brno and the Railway Administration. The aim was to bring a modern, functional, and aesthetically appealing transport hub to the city.

The winning design of the new main train station was proposed by Benthem Crouwel Architects and West 8. This year, a comprehensive architectural study was completed, presenting a design that reflects the needs of a modern and sustainable urban environment.
GLIMPSE INTO THE FUTURE
The results of this study is now presented in a travelling exhibition: Brno Station, opening today in the New Town Hall in Brno. The exhibition features not only graphic panels depicting details of the new architectural concept of the station, but also displays a large model of the station along with its wider surroundings, providing visitors with a comprehensive understanding of the upcoming transformation of the area.
Additionally, some of Benthem Crouwel Architects' most famous stations like Amsterdam-, Rotterdam -, Utrecht-, Den Haag Station and Schiphol Airport are featured in this exhibition, showcasing our vast experience with designing complex transit hubs.
This is a unique opportunity to glimpse into the future of the Brno transportation hub and its integration into the broader urban context.

Tour schedule Brno Station:
22 September – 23 October, 2023
Town Hall, Dominikánské náměstí 1, Brno

1 – 12 November, 2023
Vaňkovka Gallery Brno
November 24 - December 29, 2023
Urban Center, Mečová 5, Brno

ABOUT THE PROJECT
The design is a comprehensive solution for a multimodal transport hub including 14 platforms for highspeed and local trains, tram- and city buses, a regional bus station including 40 stops, a metro station, a bicycle and car parking. The station building offers comfortable passenger services, facilities and has ample retail and F&B areas. The design further includes an urban development with offices, housing, hotel and high quality public space including a waterfront park and urban promenade.

Construction of the station will commence in 2028, with the first high-speed train arriving at the new station in 2034.

More about the exhibition in Brno, Czech Republic: www.bkom.cz